Quality combined with European aesthetics.
At Galleri Frendberg we are passionate about rugs and always offer our costumers the best quality.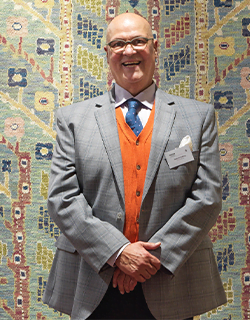 We specialize in Swedish and Oriental rugs
Amir and Lena Frendberg are the founders and forces behind Galleri Frendberg. They founded their business in Karlstad 1975, with some support by Amir's family in Iran. It soon became a successful business that grew to include a number of galleries both in Sweden and in USA.
Today Amir and Lena are focusing on Galleri Frendberg and work with their great passion – antique oriental and traditional Swedish rugs. This passion have also lead to Amir becoming an inspector appointed by the Swedish Chambers of Commerce.
All households deserve high quality, antique rugs.
Swedish and oriental rugs are our specialty
Our great passon for antique rugs have led us to a journey around the world to collect the best and unique pieces. We have now a great collection from many countries. You will find rugs like Tabriz, Kashan, Heriz, Mahal as well as Aubussons and tapestries.
But mostly we offer a wide collection of Swedish rugs from the 20th century. This includes artists like Märta Måås-Fjetterström, Barbro Nilsson, Agda Östberg and Judith Johansson to mention a few.
We will gladly assist you in your next purchase.
At Galleri Frendberg we are also offering repair and washing for your rugs. Contact us for more information.